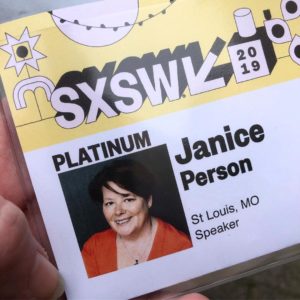 Whether on a stage in front of hundreds in a major metropolitan area, a small gathering in a town few people have heard of or on a screen miles from the audience, every opportunity to speak is something Janice approaches with a combination of enthusiasm and seriousness. It is  a responsibility and an opportunity to learn more about the audience as she shares ideas. Doing a range of keynotes, panels and training events over the past decade, Janice has prompting thought and action among men, women and youth.
Keynote Addresses
Janice uses vivid storytelling techniques to help groups discover a sense of wonder, embrace new ideas, conquer fear and more. Providing a starting point for a conference or a single voice at a dinner event, you want someone who can understand your audience & move them. Years of experience with a range of topics and audiences can be applied to preparation with organizers to insure that the audience can be met where they are and moved in ways that help organizers achieve the specified goals.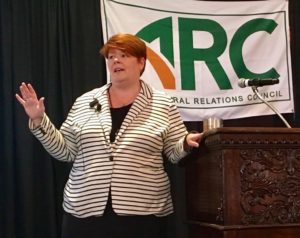 Some of the topics Janice presents include:
While You Were Farming — 2020 was a year with immense change in cities, but it was easy to be so focused on essential work on farms to miss some of the shifts. While some changes will not impact food & farming, some of the shifts can have long-term implications for agriculture. We'll talk about some of these shifts that can present farms with opportunities and challenges.
Storytelling is the Latest Tool We Need in Our Toolboxes! — One of the most proven ways to connect is to know your story and be sure it is shared in ways to capture the imagination of others. Whether you are in the food industry or travel, storytelling holds the keys to relaying complex information to make it memorable, repeatable and truly impactful. 
Stepping Into the Uncomfortable — It is part of our new normal…. a lot of us feel uncomfortable. It is important to recognize, process, even consider if that uncomfortable feeling is working for or against us. I have found I have to step into that uncomfortable space in order to grow, you may need that too.
Branding Yourself Has Never Been More Popular. But is it about popularity? — The very idea of personal branding puts many of us off but branding yourself is where it is at. Why is this becoming so popular and what risks & benefits does it offer?
Fear & Outrage — Polarization seems to be a constant with fear & outrage leading the pack. Let's unpack why this is becoming so common, what to watch for and how to address it personally and professionally.
More than ever, meetings and speaking means more than just being in a room with people. Whether you are planning an in-person conference or virtual event, you want speakers who will motivate your group to take action. Janice has the experience to engage your group and works with organizers to be sure the audience's hot buttons get activated! 
Get Results
Several people who have heard Janice speak have left recommendations on her LinkedIn profile. Here are excerpts from a couple:
"Janice was our keynote speaker at the Association for Communication Excellence conference in 2016. Her presentation was part of a catalyst that prompted my colleagues and I to form a working group at our university. Her presentation was powerful and useful. Thank you for inspiring us all to share our stories and communicate through multiple channels."

"We need more people like Janice in our society… Janice has motivated and challenged me to question my assumptions and get uncomfortable when I get too comfortable… I had the opportunity to hear Janice speak at a recent meeting of food and ag PR professionals. She was captivating, emotional, and inspiring. It was worth traveling cross-country for the meeting just to hear her talk. I've already applied what I took away that day in my personal and professional life–taking small steps to get out of my comfort zone."
Panel Organization & Moderation
Combining a range of perspectives and ideas through a panel discussion or prompting a group discussion about change can be a highlight of any business meeting or conference agenda. Navigating the range of opinions and experiences in a way to pull out the various individuals stories to help build a narrative that serves the audience, is part gift and part skill. Janice has worked with panels in a range of local, national and international venues and across a range of topics (women in business, social media, food & farming, etc). She can bring that to work for your organization to create the impact you are looking for.
See Janice in Action & Read More Reviews
Recent Clients Include
Ask Janice to Speak to Your Group
If you are involved in planning a conference, corporate meeting and local event and would like to have Janice speak to your group, please get in touch. We'd love to talk more about the audience, topics you are discussing, potential fit, timing and speaking fees. Also consider forwarding the URL to this page or the video showcasing some of our work & recommendations or downloading this PDF document summarizing the page to share with others.
[contact-form to="[email protected]" subject="Speaker Request"][contact-field label="Name" type="name" required="1″][contact-field label="Email" type="email" required="1″][contact-field label="Organization/Event Name" type="text" required="1″][contact-field label="Your Role in the Org/Event" type="checkbox-multiple" required="1″ options="Event organizer,Planning committee member,Leadership,Member/Attendee,Other"][contact-field label="Date " type="date" required="1″][contact-field label="Location" type="text" required="1″][contact-field label="Audience Makeup" type="text" required="1″][contact-field label="Topics of Interest / Discussion" type="textarea" required="1″][contact-field label="How did you hear about Janice?" type="text" required="1″][contact-field label="Anything else Janice should know? " type="textarea"][/contact-form]