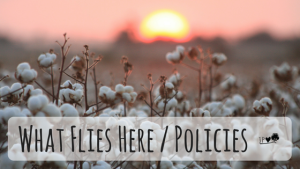 Across the sites I do under JPlovesCOTTON, LLC, there are several policies readers may want to be aware of:
Advertising / Affiliate Links
For a really long time I stayed away from advertising because I wanted content to stay center stage and hadn't found the right way to monetize. This is coming along now though and i will be trying a few different things to pay for the hosting, plug-ins, cool design work, etc.
You will find ads on the site as well as affiliate links which will be clearly disclosed in any articles containing them.
I've done sponsored posts and product reviews sparingly, I'll only accept those which I think fit for all of us (blog, audience, me & the brand seeking posts).
If you guys start making me rich, it will be totally unexpected but the thank yous will be coming!
Please Join the Convo / Comment
I love it when I can write something that provides a reason to leave a comment. And having people ask more questions about cotton is inspiration! Hopefully, people who read the things I post have ideas they want to share as well so I use creative commons rules. For me, blogs are, at the core, a way to express individual experiences and opinions.  Feel free to disagree or agree — I enjoy debate just remember diversity of opinions are fine. Moderating comments can be a necessary evil at times (though I don't want to make a habit of it). The guidelines I use in deciding what to post are 1) is the language appropriate & respectful? 2) does the comment relate to the topic(s) discussed? If my mom would think there is a personal attack in your comment, it will be moderated (either edited or rejected). If my niece shouldn't read the kind of words you use, again, it will probably go into a holding cell. Oh and at a certain point, understanding people may disagree, I may limit the comments when time or number become overwhelming.
Copyright
If you'd like to include some of the information I have here, I request you make proper attribution and use a follow link. The time I take writing this blog is my personal time that I value. Please use common courtesy by reposting only part of my post with comments from you to add to the discussion. I do not allow for reposting in total without advanced permission. Feel free to ask (the contact form on the site will work) and we can talk it through. There may be some information I include here and attribute to others I try to honor their wishes. Of course, I don't have any claim to copyright to the pieces others write. That's all them.
Guest Posts
I think it is rockin' to have some guest posts! I've only had a few but welcome additional posts. In fact, I have a "guest perspective" tag with a focus on posts about individuals writing about a favorite cotton item or where their passions are, etc. And I enjoy writing for others at times.  If you'd like to propose a piece for me, consider follow similar guidelines as requested for comments — appropriate language and subject matter are required. I may not agree with all of the thoughts or opinions in these posts but I respect their right to those thoughts & opinions. I will seek out various perspectives to post here but in the end, I can refuse to post too. If you want to get in touch, you have lots of options to contact me.
Privacy 
Feel free to sign up for a subscription, or leave your email address for comments, etc. It will deliver content from the site and occasionally an email newsletter with additional content I'm creating. I WILL NOT sell any information to third parties nor will I start sending you things you don't want regularly. Putting your email address in on this site means it is for the use you provided and nothing else. Here is the detailed privacy policy for the sites that are under the JPlovesCOTTON LLC umbrella.
Not Business Communication
This blog is a personal channel of expression and does not represent official communications from my employer, Bayer Crop Sciences or any other entity.  The views expressed herein and of guest authors do not necessarily reflect the my views, those of the company or of any other individual employee.  It also doesn't mean that my family or friends agree — I'm lucky to have a big tent of people I call my family and friends.  I love that we can have discussions about what we are passionate about and better understand each other.
I reserve the right to amend, append or otherwise modify these policies. 
(A slightly different version of these policies are on my other websites Hundred Percent Cotton & JPlovesLIFE.com.)