Throughout my career I have had the chance to work with some amazing students through internship programs. Having started my own business, I have to say, I am so excited to create an internship to assist with content development, planning and more. We will look for ways to develop skills, insights and experiences that will add to the career foundation for the intern as well as build additional depth to programs, proposals and content JPlovesCOTTON LLC offers (through the Grounded by the Farm podcast and other sites).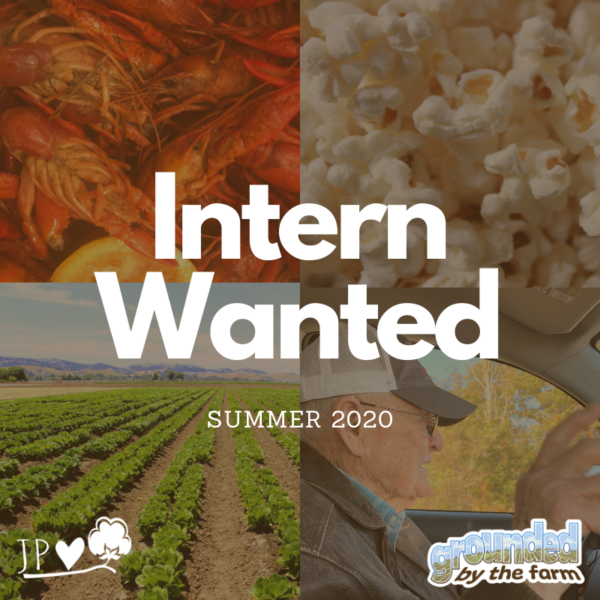 Interns offer new perspectives as well as incredible energy for learning. This is a chance to learn from the ground up not only learning processes and procedures but in some cases help setting them for a new company.
Intern Duties and Responsibilities
Assist in developing a social sharing system that provides for growth and development.
Focus on Instagram and Facebook audiences.
Create posts that engage individuals who love food but may not have agricultural knowledge or experience.
Set a scheduling cadence for resharing posts.
Explore cool new ways to draw ears and eyes to Grounded by the Farm.
Update and post supervised social media and website content; respond to web correspondence, social media. posts, and emails.
Write and edit blog posts for GroundedbytheFarm.com/blog.
Edit audio interviews to enhance clarity and impact.
Intern Requirements and Qualifications
Excellent written and verbal communication skills.
Self-directed and able to work without supervision.
Energetic and eager to tackle new projects and ideas.
High school degree or equivalent; must be enrolled in an accredited university/college program to receive credit.
Use of communications computer programs & platforms, including WordPress, iMovie, Canva, Audacity.
Must be 18 years of age (hopefully we will be able to work out a field experience).
Have computer & access to stable internet access.
Ability to work 20-35 hours a week.
What This Opportunity Offers
Real-world experience from someone with a diverse career background in communications and PR for agencies, publications and Fortune 500 companies. You can check out my background on LinkedIn.
Clips for future employment.
Flexibility to work from your preferred location.
Ability to discover new approaches to communications.
The ability to fail hard as long as we keep finding ways to fail forward.
The intern will be a paid contractor with hours varying based on skill levels, etc.
Will investigate the potential to qualify for credit depending on university programs.
Depending on how the coming months shape up, I would love to find the right opportunity to meet up IRL for a podcast interview, conference or something!
About the Company — JPlovesCOTTON LLC is a small business focused on communications offering clients strategic counsel, training and public speaking services as well as content creation. The company is behind the Grounded by the Farm podcast, the accompanying website GroundedbytheFarm.com, HundredPercentCotton.com and JPlovesLIFE.com I am Janice Person, CEO and Founder, also the only employee and I am based in St. Louis, MO.
Applications are being accepted via this form through April 15, 2020, everyone who submits a resume will hear back from me by April 22.